ABOUT US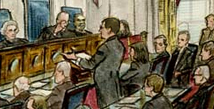 In 1991 Vladimir Mekler, who at the time was the youngest legal consultation office director in the Moscow City Law Firm, brought together a small team of experts: a respected and acknowledged civil lawyer Kosheleva L. and two young lawyers Nikitin A. and Kleimenov A.
In 1995 as part of Moscow City Law Firm an Attorneys at Law Mekler & Partners office was founded. In the ensuing years it experienced a drastic professional advancement and later on transformed into a separate Law Firm– Moscow City Law Firm Mekler & Partners, which now occupies its own unique niche in the market of high quality legal services.
Our established team of 19 skilled lawyers is well versed in all the high-demand legal fields, providing legal support of both private and corporate sectors.
We represent our clients in all courts of all judicial instances. On numerous occasions our lawyers have appeared before the Constitutional Court with landmark cases, representing the Federation Council among others; our lawyers have appeared before court on a variety of high-profile criminal cases, we have represented our clients before the Supreme Arbitration Court of the Russian Federation.
The works of our experts have appeared on the pages of the leading scientific publications.