WHY US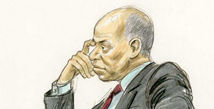 We take every case personally.
We study our clients business thoroughly, closely inspecting every fine point, trying to understand the very "essence" of the business.
Our lawyers always keep their eye on the big picture, analyzing and anticipating all the possible lasting effects of our advice on the general health of our clients business.
The Law Firm Mekler & Partners grows with our clients business'. It is hardly surprising that our lawyers work with their established clients for 10-12 years.
Over the years we have established strong business connections with foreign law offices; working as part of a multi-national team we are able to:
participate in transnational legal (economic) dispute settlement;
participate in international contract structuring and settlement as well as in corporate procedures;
assist in the execution and coordination of legal arrangements in the filed of criminal law on behalf of civil claimants, including assets identification and exposure of those guilty of economic damage or other economic crimes.
We co-operate with lawyers from Israel, USA, Austria, the United Kingdom.